Northerner with a passion for lingerie, art, guinea pigs and sarcasm.
Latest posts by Emily Perry-Musgrave (see all)
If my underwear isn't sitting past my bellybutton something doesn't feel right..!
Is there an unspoken feeling of satisfaction for some women where our tights, pants, trousers and leggings feel sooo much better when they're sat on or above our bellybuttons? I, for one, feel comfortable and a sense of security when whatever I'm wearing on my bottom half is reaching that magic, invisible line on my stomach.
Working in retail, I have spoken to others and know it's not just plus size people that like the waist band to reach mostly past our waistlines. I have tights that I can happily tuck into my bra! Perhaps it's something to do with our bellybuttons feeling perverse or censored and a subconscious need to cover them up?…. Nah, probably not. I just like my fat rolls feeling snug and cozy, no hidden agenda!
While my bellybutton is about two inches deep (and I wouldn't change it for the world) I feel amazing and comfortable and just generally however I want to present myself in that particular moment when I'm wearing some decent, high waisted briefs. I've collected my favourites, some tried and tested and others that are certainly on my wishlist! And a rarity – none of them are shapewear!!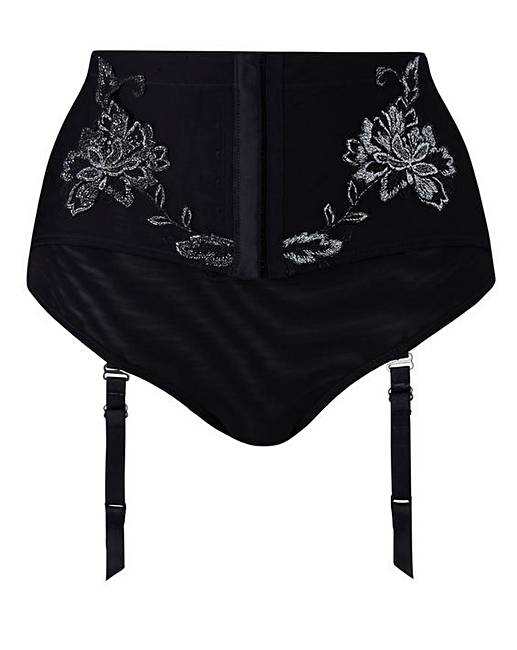 Pretty Secrets Anastasia Hook & Eye Brief With Suspenders
A brief that's boudoir worthy, Pretty Secrets Anastasia brief also comes with suspenders. The embroidery detail makes them look more than the £14 they cost. They go up to a size 26 with the suspenders being detachable.
________________________________________________________________________________________
________________________________________________________________________________________ Rose Garden Full Briefs by Bon Prix 
These are perfect for spring! Pretty and practical, these briefs are only £7.99 and go up to a size 32. I'd team it with a bralette and sip a cup of tea while lounging about like a spoilt and lazy house cat.
A cute-but-classy brief, Raquel also comes in black. An investment at £22, Elomi cater for up to a size 30 as they go up to a 4xl. The vintage style lace with the art deco effect in this pecan colour is a 10/10 for style and comfort. The matching bra is also rather gorgeous, but I'd quite happily wear these and nothing else while doing some (unsuccessful and counterproductive) spring cleaning.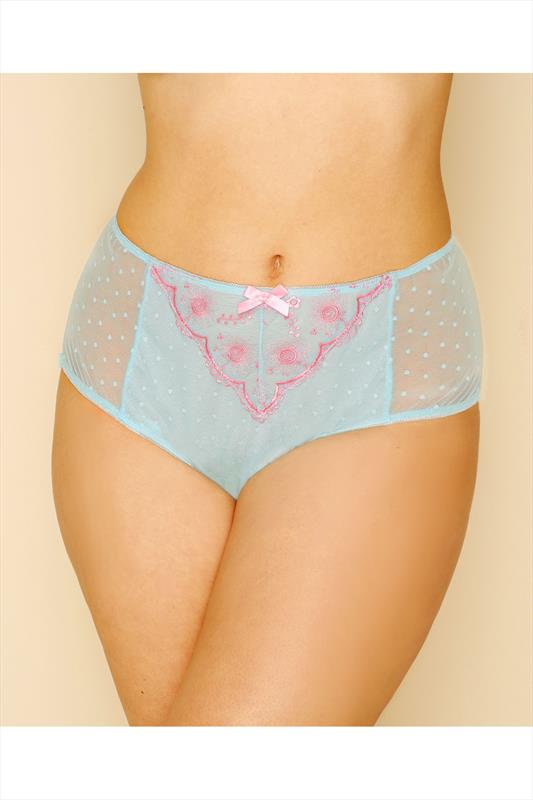 Light Blue & Pink Floral and Spot Embroidered Briefs
£8, available in two other colours and goes to a size 28. Need I say more?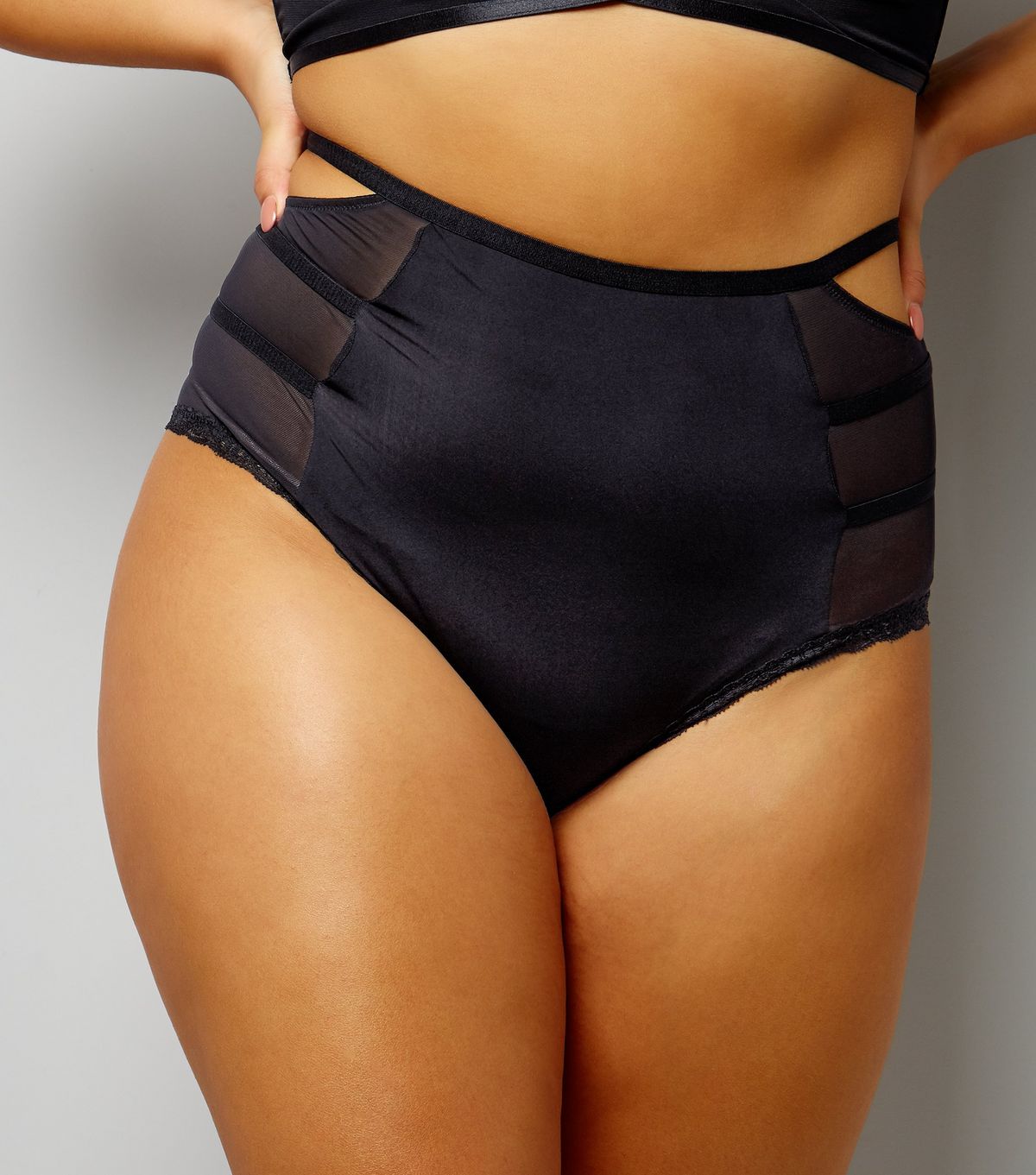 Black Mesh Panel Lace Trim High Waist Briefs from New Look
I am constantly in love with this cage style in lingerie. These are a bargain at £7.99 and go to a size 26. The beautiful thing about high waisted briefs is that they do come up more generous, so I would size they would definitely fit a size 28.
Mae by Fantasie High Waisted Brief
A vintage-esque brief, Mae by Fantasie is gorgeous. While I have the bra, I don't have this matching co-ord (I know, shame on me!) but if the bra is anything to go by, this velvet and lace combo will be comfy and look cute as an everyday wear or as something a bit fancier! It's another investment at £22, but is such good quality and is so beautifully made that it's an investment worth making. The sizes are limited, only going to a 2XL (about a size 22) but they do come up slightly bigger.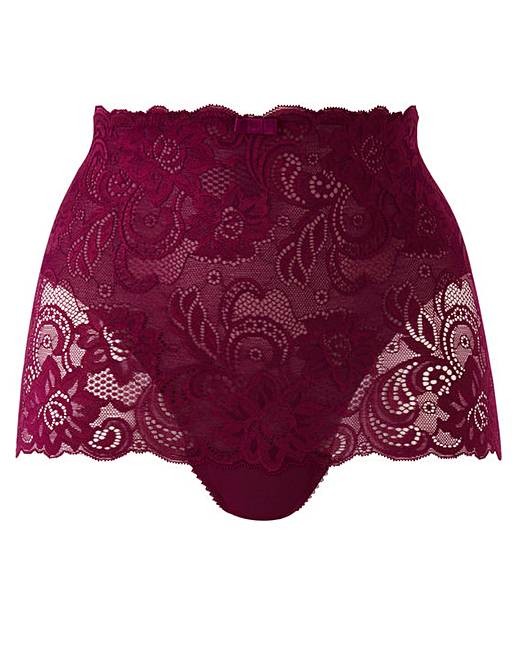 Gossard Purple Deep Shorts
All. The. Lace. It can't just be me that has an obsession with lace and a deep plum colour, can it? These are available up to a 3xl and are the most expensive on the list at £24. The bow detail on these briefs is a really nice touch and is making me want to match my lipsticks to this colour.
Comments
comments